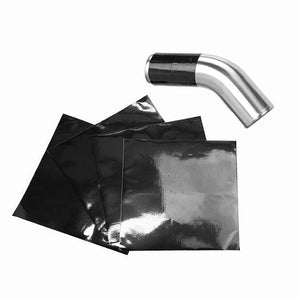 THIS ADHESIVE HEAT SHIELD COMES IN A 500MM x 500MM SHEET AND CAN BE CUT TO ANY CUSTOM SIZE.

THESE SHEETS ARE USED AS A THERMAL BARRIER AND CAN DEFLECT UP TO 80% OF ALL RADIANT HEAT RESULTING IN A DRAMATIC REDUCTION OF HEAT TRANSFER.  THEY ARE TEMPERATURE RESISTANT UP TO 260℃  
WITH A WIDE RANGE OF APPLICATIONS & USES SUCH AS COOLING INTAKE PIPES, EXHAUSTS, FIRE WALLS, TRANSMISSION TUNNELS & FUEL CELLS THEY ARE EASY TO INSTALL & FORM OVER ANY SURFACES.