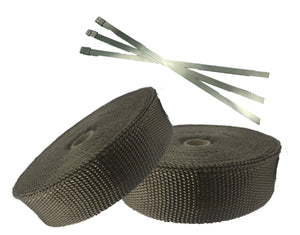 ZOO PERFORMANCE EXHAUST WRAP IS A VITAL PRODUCT FOR HEAT MANAGEMENT AND HAS GREAT BENEFITS BY LOWERING ENGINE TEMPS WHILE INCREASING THE LIFE OF IMPORTANT ENGINE COMPONENTS. 
IT CAN BE USED IN MULTIPLE APPLICATIONS SUCH AS AIR INTAKE, INTERCOOLERS, SUPERCHARGERS, TURBO PIPES & EXHAUST HEADERS. 

THESE WRAPS ARE MADE FROM DURABLE TIGHT WOVEN TITANIUM FIBRES TO HANDLE EXTREME HEAT APPLICATIONS OF UP TO 1200°C FOR TO IMPROVE PERFORMANCE AND DURABILITY.  IT ALSO HAS A HIGH RESISTANCE TO CHEMICALS & OILS AS WELL AS ABRAISION AND IS LONG-LASTING.
1.5MM THICK | 50MM WIDE| 15M LENGTH ROLLS 
4 x STAINLESS STEEL ZIP TIES PROVIDED WITH EACH ROLL